Well built, affordable housing is essential to the vitality of communities in rural America. Housing Programs give families and individuals the opportunity to buy, build, repair, or own safe and affordable homes located in rural America. Eligibility for these loans, loan guarantees, and grants is based on income and varies according to the average median income for each area.
Do you want to buy or build, repair or refinance your rural home? Check out the Single Family Housing Decision Map Infographic (PDF, 313 KB) to get started.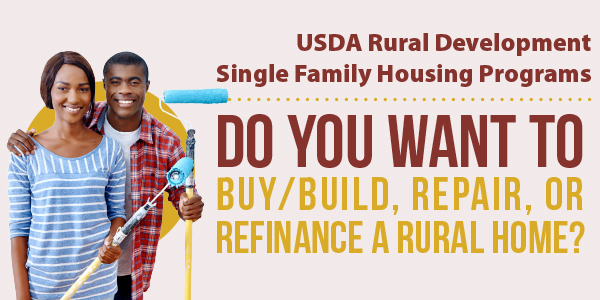 Homeownership Programs
Low interest, fixed-rate Homeownership loans are provided to qualified persons directly by USDA Rural Development. Financing is also offered at fixed-rates and terms through a loan from a private financial institution and guaranteed by USDA Rural Development for qualified persons. Neither one of these home loan programs require a down payment.
USDA Rural Development also offers competitive grants to public and private non-profit Self-Help Housing organizations and Federally Recognized Tribes to enable hardworking families to build their own homes.
Rural Development Single Family Housing Programs:
Single Family Housing Repair Loans and Grants provide funds to elderly and very-low-income homeowners to remove health and safety hazards, perform necessary repairs, improve or modernize a home, make homes accessible for people with disabilities, or make homes more energy efficient so these very-low-income families use less of their income on utility bills.
For more information about Single-Family Housing Programs or to find out if you are qualified contact your local USDA Rural Development office.